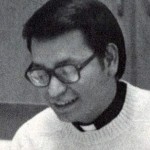 [Webmaster's Note: The Rev. Antonio Marfori graduated from St. John's University in 1972. Marfori is the 85th alleged perpetrator with ties to Saint John's. See List.]
AP: Story Below
SC Times: Here
MPR: Here
MINNEAPOLIS (AP) — A priest at an Elk River parish and school is being accused of abusing a teen in the 1970s.
A lawsuit filed Tuesday alleges the Rev. Antonio Marfori sexually abused a 15-year-old boy in 1978, when Marfori taught at St. Cloud's Cathedral High School.
The lawsuit names Marfori, Cathedral and the St. Cloud Diocese as defendants. It alleges the diocese should've known Marfori was a risk.
Marfori was most recently serving in sacramental ministry at the Church of St. Andrew in Elk River.
The diocese says he's been removed from ministry while the allegation is being investigated.
The diocese says they had no prior allegations of abuse against Marfori before receiving the current lawsuit, and it has been reported to law enforcement.
A message left with Marfori wasn't immediately returned.
(Visited 1,521 times, 1 visits today)