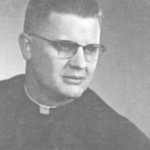 In January of 2014, Bishop Donald Kettler released the names of 33 clergy from the Diocese of Saint Cloud "who were likely involved in the sexual abuse of minors."
The list included Msgr. Vincent Yzermanns. [Link]
Yzermans taught at the Prep School in the mid-1970s.
According to Kettler's 2014 statement, Msgr. Yzermanns served in the following locations:
• Vincent Yzermanns: St. Boniface, Melrose; St. Mary's Cathedral, St. Cloud; St. John the Baptist, Swanville; Editor, Saint Cloud Visitor; St. Nicholas, St. Nicholas; St. Rose, St. Rosa; St. Anthony, St. Anthony.
The list of locations did not include Collegeville, where Yzermans reportedly taught during the 1974-1975 school year.
Msgr. Yzermans will be teaching a course on Vatican II during second quarter. He has edited the St. Cloud Visitor, Our Sunday Visitor, and The Priest magazine. At Vatican II Msgr. Yzermans served the bishops as a pedals or expert. He has edited or written several books on the Council and other subjects. –  Prep World, (September, 1974, page 4)
(Visited 916 times, 1 visits today)