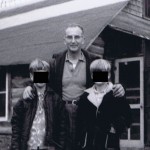 Father Richard Eckroth, a monk from Saint John's Abbey in Collegeville, Minnesota (USA) reportedly died at 4:25pm on Sunday in the abbey's retirement home. Eckroth's funeral is scheduled for 3pm on Friday, May 29, 2015.
Father Richard Eckroth is one of the Saint John's Abbey most notorious alleged sex offenders [ View] and was the subject a 2002 article ("Sins of a Father: 'Sauna Kids' Abuse") in INSIGHT Magazine.
The abbey has yet to make a public statement.
From 1996:
Saint John's Quarterly – Volume 14, Number 3 (Summer, 1996)
Father Richard Eckroth was born in Mandan, ND, made his first profession of vows in 1946, studied philosophy at the International Benedictine College of Saint Anselm in Rome for three years and was ordained to the priesthood in 1952.
He taught philosophy at Saint John's University (1952-76); was the assistant to the novice master (1951-53) and to the master of brothers (1953-56); served as the master of brothers (1956-64); and as faculty resident in student housing in the university (1964-67).
He was also in charge of the abbey's stamp and coin collection and was the community's wine maker and keeper of the wine cellar (1963-76). He served as chaplain at the monastery, college and high school of St. Benedict, St. Joseph, MN (1967-73).
Father Richard began his formal pastoral ministry as assistant at St. Augustine's Church, St. Cloud (1973-74) and Seven Dolors Church, Albany (1974-76).
From 1977 to 1993, he served Saint John's foundation in the Bahamas. He was the associate pastor of a church in Nassau, then took charge of six churches of the Family Island of Andros. Later, he oversaw the construction of a new church on the island of Bimini. Currently, he is in charge of the abbey-parish cemetery and monastic burials at Saint John's and is a substitute chaplain.
(Visited 701 times, 1 visits today)