Based on interviews and ongoing private investigation, here's a summary of Joshua Guimond's last known movements and locations (as best I've been able to establish) the night he disappeared, along with a campus map and numbered legend to track Guimond's route:
Map of Saint John's University, Collegeville, Minn.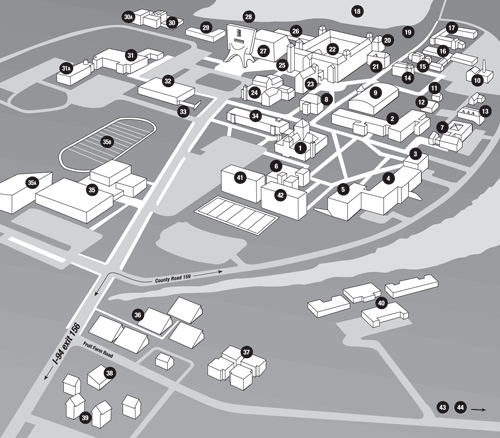 » Josh leaves card game at Metten Court (37) to return to his apartment in St. Maur House (42).
» Josh takes the paved pedestrian walkway (not shown on map) passing between the buildings of Seton Apartments (36); observed by one eyewitness standing behind dumpster at Seton Apartments.
» Josh crosses the intersection to the left of Stumpf Lake onto the main campus; observed by group of eyewitnesses crossing culvert in direction of bus stop on exit route to I-94.
» Josh walks in direction of his apartment in Maur House (42); no further witnesses.
» At this point, Josh had to cross County Road 159; a parking lot; and walk around the tennis courts to reach his apartment in Maur House (42); however, there is no electronic record that he used his computerized key card to enter his apartment.
(Visited 392 times, 1 visits today)