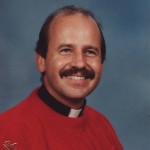 "I live in a cell also, only it is a cell in a monastery. I am a Benedictine monk from Minnesota." – Fr. Fran Hoefgen, in a letter to one of his victims, 23 years later.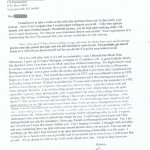 In a letter written on St. John's Abbey letterhead in February of 2002, Fr. Fran Hoefgen shared his thoughts with an inmate he found on a prisoner pen-pal Web site. "I would love to take a walk on the wild side and hear from you! Is that really your picture… wow!" Hoefgen wrote, "Can't imagine that I would regret writing to you at all. I like free spirited people, and open-minded people. Wonderful picture, you do look quite striking really. Ok, you're quite handsome. So what are your innermost desires and secrets? Your expectations of a relationship like this? Be assured that your secrets would also be safe with me."
Twenty-three years earlier, in 1979, Hoefgen allegedly met the pen-pal, who was sixteen at the time.
Hoefgen referred to the meeting in a second (handwritten) letter dated March 15, 2002.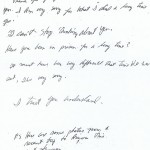 "Thank you for your letter, good to hear from you. I am very sorry for what I did a long time ago. I can't stop thinking about you. Have you been in prison for a long time? It must have been very difficult that time we had sex, I've very sorry. I trust you understand." PS: "Here are some photos from a recent trip to Arizona this past January." Fran
More from Fr. Fran Hoefgen's first letter to the prisoner, dated February 26, 2002:
"Now, who am I? I have been writing to a gay prisoner for about four years and someone put me onto this prison pen pals web site and decided to write to you. You probably get lots of letters so I will tell you about myself and let you decide if it pricks your interests at all."
"I live in a cell also, only it is a cell in a monastery. I am a Benedictine monk from Minnesota."
"I greatly appreciate photography, play raquetball with some of the college students on campus, like biking, swimming, tennis, hiking, I like to give massage and get massage…who doesn't? I like going to movies and fun stuff like that. I've been through some tough stuff and some mistakes in my life and want you to know that there is not one ounce of judgement in my body. Rather I'm into unconditional acceptance and for that reason I decided to do something wild for me…start writing to you."
"Why you? Well, yes I like what I see but I also believe that I have a lot to learn from you. From your experiences in prison, before and perhaps after as well, I want to understand what your time in solitude has meant for you. I value long term friends and I like having friends out side the monastery. I have gay friends in Minneapolis and beyond. "
"Yes, I am gay myself and I hope that doesn't bother you. Can't imagine it would. I struggle with sexuality and was wondering how you deal with your sexual desires where you are now. You can ask me anything you like and I look forward to an open and interesting relationship over the years. I wanted to be as honest with you possible and if you decide not to write to me, I will honor that as well. If you decide to write to me I will send a photo next time. I hope to hear from you."
(Visited 1,461 times, 1 visits today)