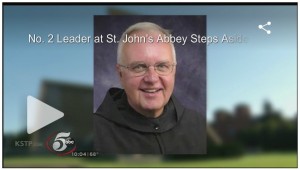 (KSTP – 5) St. John's Abbey says its No. 2 leader, the Rev. Tom Andert, has stepped aside because of an allegation of a sex crime involving a former student at Saint John's Preparatory School.
Read the entire article and watch KSTP's news coverage… Here
Father Andert was ordained in 1975 into the Order of St. Benedict. He's been an educator and in charge of day-to-day operations along with being a member of the monastery's external review board. It monitors members accused of improper behavior.
In an email to Five Eyewitness News, the abbey's spokesman, Rev. Aelred Senna, says that Andert will "step back from public ministry and from his work until an investigation is completed." Senna says the allegation didn't go into specifics, but Andert's removal was in response to a letter sent earlier this month by the former student. And the claim is three decades old.
The Abbey went onto to say it took action, referring the student to a victim's advocate, counseling and referred the claim to it's review board for investigation.
A former member of that board, Richard Sipe, spoke to the need for transparency, "it should be complete, be entirely open and should be open to the possibility of litigation against the Abbey and St. John's."
By state law, the abbey is a mandatory reporter, meaning any allegation of sexual misconduct with a minor has to be reported to local law enforcement. Bruce Bechtold, the Chief Deputy with Stearns County Sheriff's Department told us there isn't a complaint involving Andert.
This is the second time Father Thomas Andert has been accused of a crime. In the other case, the claim was deemed not credible.
Read the entire article and watch KSTP's news coverage… Here
August 20, 2015
KSTP
Channel 5 – ABC
Minneapolis/St. Paul
(Visited 849 times, 1 visits today)