Br. Isaac Connolly [ Link ] took his down.
Fr. Finian McDonald [ Link ] did the same.
Now Fr. Brennan Maiers is taking a shot.

We received a message today via the Feedback page today that Fr. Brennan Maiers' is the latest offending monk at St. John's Abbey with a Facebook page, despite restrictions which prohibit personal web sites.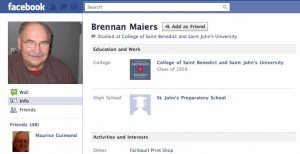 Maiers' Facebook Link: Here
Fr. Brennan Maiers continues to roam, without restriction, around the St. John's University and St. John's Prep School campuses.. and now he is roaming the Internet.
Note: Fr. Tom Andert, another monk offender at St. John's Abbey, does have a Facebook page. [ Link ] It should be noted, however, that Fr. Andert is not on restriction despite allegations of misconduct. Instead, Fr. Andert was promoted to the second highest office (Prior) at the Abbey.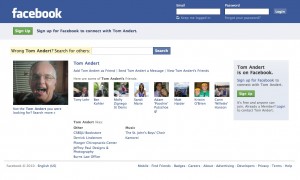 Andert's Facebook Link: Here
(Visited 1,971 times, 1 visits today)