In 2002, Pahrump resident Rita Prince heard some shocking news from her sister. Their 18-year-old brother Patrick Ryan, who hung himself in a jail cell in 1969, had been undergoing psychiatric counseling after being drugged and raped by a Catholic priest at St. John's University in Collegeville, Minn., a year before.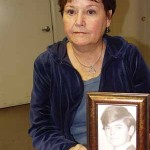 Rita Prince holds up a photo of her brother, Patrick Ryan, who committed suicide after being sexually molested by a priest.
Photo by Mark Waite
Prince set out to find out more details about the incident that was almost an unmentionable subject until recently when news broke the Catholic Church began paying out huge sums to victims of sexual abuse by priests.
Pope Benedict II on a trip to the U.S. recently asked for the healing to begin for victims of sexual abuse by priests.
Prince, who retired from San Diego County Health and Human Services and moved to Pahrump in 2003, joined SNAP three years ago — Survivors Network of those Abused by Priests.
She took over as Las Vegas area chapter president Nov. 1.
Her brother was given psychiatric care in a mental hospital in San Diego, Calif., after the molestation incident and escaped Feb. 13, 1971, Prince said. He was picked up by police and taken to jail. Prince said her parents weren't allowed to see him in jail because they didn't fill out the proper paperwork, though her mother said he was suicidal. A few hours later, they were notified Patrick hung himself.
Prince said she was informed by the Edmunite religious order that her brother's attacker, the Rev. Paul GoPaul, a black history professor, died of AIDS in 1988.
Patrick was sent to the school by his father, who graduated from St. John's University in 1949 and wanted his son to have a good, quality education, she said.
Prince found out her father, who is now deceased and never mentioned the incident to her, wrote a letter in 1971, to the university president in Minnesota, informing him about the sexual assault, and was told university officials would look into it.
"They didn't discipline GoPaul except to deny him tenure at the school. That was his punishment," Priest said. "They told my father that (GoPaul) had left after he was confronted and they didn't know what his future plans held."
Prince found out GoPaul, a native of Trinidad, had transferred to California State University-Dominguez Hills and then to churches in Carson, and Long Beach, Calif. Prince charged St. John's University never informed officials in California about the priest's background.
St. John's University spokesman, the Rev. William Skudlarek, told the Minneapolis Star-Tribune in an article dated Sept. 25, 2006, it was "the first I'd heard" of an exchange between her father and the abbey. Skudlarek said abbey officials first heard of the case in 2002, when a victim's advocate forwarded GoPaul's name.
"There was no intent to hide his name or any names of perpetrators," Skudlarek told the newspaper.
GoPaul's name was listed on a Web site, Bishopaccountability.org, in September 2006, which brought another victim forward, Prince said.
"He said for 30 years he had been an alcoholic, had a failed mariage, lost jobs," Prince said of the victim who preferred to remain anonymous. "I was able to secure psychiatric treatment for him paid by the Catholic Church. A year later he is no longer on alcohol, he is a new person. He has a job.
"He did not have enough courage to come forward by himself. Once he saw his abuser listed, he said I can come forward now because I am not alone and that's the big thing with the victims. They're alone and they can't come forward."
Prince said 10 victims of the priest eventually came forward through her contacts with SNAP, including a woman who said GoPaul had a reputation for picking up hitchiking students and attempting to molest them.
There was a settlement between the university and victims of the priest in 2002, Prince said. The university claimed it didn't know how to contact her brother's family about the settlement, yet her father had a copy of the university alumni magazine on his coffee table when he died, she said.
Prince said her parents never sued the university or the religious order. She said lawsuits typically don't go to court. The Catholic Church pays out a judgment to prevent information from becoming public.
"The sad thing is a lot of people think these victims are after money. Money is not the issue. These people want their innocence back, their childhood back and, in my case, I want my brother," Prince said, breaking into tears.
SNAP is a self-help group, she said, hosting meetings with victims, providing peer counseling and helping people with resources, like Internet sites to look up priests.
Prince held press conferences at places like St. John's University and again in Los Angeles after she heard the Catholic Church was going to give out an award in GoPaul's name.
In November, she held a press conference at the archdiocese of Las Vegas.
"They need to clear up their paperwork. The church is still covering up. They know who is a pedophile, they know who they got complaints on. They know where they are. They're not turning this over to the police or to victims and they need to start doing that to help solve this problem once and for all," Prince said.
"Our Holy Father was here earlier this year and stated he wanted all the churches in the diocese and Catholics to open up and embrace the victims and help them heal. Churches are not doing that," she said.
As for herself, Prince said she now struggles with her faith and doesn't go to Mass.
"It would be very difficult for me to do that because you wonder, are they one of the 5,000 that's listed on the SNAP Web site as a sexual abuser? There have been over 200,000 victims come forward already. They figure that's 10 percent of the total victims out there becuase they figure it's so hard for people to come forward. It's years before people get the courage to tell their story," she said.
Children are seduced by those abusive priests by being told things like God has chosen that child to perform a sexual act with them, Prince said.
"The children are going to confession and confessing to another priest what this priest did to them and the priests are just giving them absolution, sending them on their way like this is par for the course," Prince said.
Prince requested any victims to contact her at snapprince@gmail.com or by calling SNAP at 1-877-SNAP HEALS.
Pahrump Resident Heads Group for Victims of Clergy Sex Abuse
By Mark Waite
Pahrump Valley Times
December 31, 2008
http://www.pahrumpvalleytimes.com/2008/Dec-31-Wed-2008/news/26021947.html
(Visited 427 times, 1 visits today)