After more than eight years of covering up credible allegations of sexual abuse by one of its members, a source at St. John's Abbey in Collegeville, MN has admitted that Br. Jim Phillips is a "Monk Under Supervision".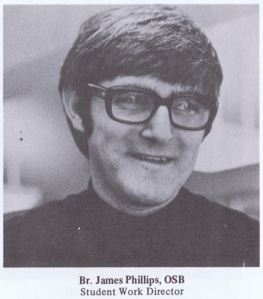 Br. Jim Phillips in mid-1970's
Br. Phillips professed vows in 1970. He worked in the St. John's Prep School and St. John's University residence halls in the 70′s, 80′s and 90′s. He also worked in the Bahamas between 1981 and 1984.
Documents show that St. John's Abbey was made aware of two abuse allegations against Br. Jim Phillips in or before 2002. However, Br. Phillips' name has never been made public, even after an external investigator (hired by the abbey) researched the allegations and concluded that the abuse claims were valid – and that Phillips' version of the events were not credible.
According to the abbey source, Phillips has been "at the abbey" and has had "no access to minors" since before the investigation took place.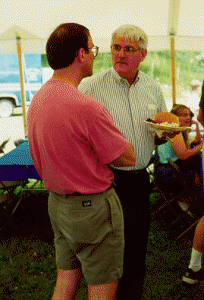 Br. Jim Phillips at Recent Prep Function.
It is believed that Br. Phillips has more than five victims, dating back to the late 1970′s. At least two victims have come forward. Both were students at St. John's Prep School in Collegeville, MN. Br. Phillips fondled each of these victims and attempted to sodomize at least one of the victims.
The abbey will now have to answer questions…
1. Was Br. Jim Phillips' name provided to the authorities when they were investigating the disappearance of Jacob Wetterling?
2. To what extent was Br. Jim Phillips investigated following the Joshua Guimond disappearance?
3. Why was Br. Jim Phillips' name not released to the public after the abuse claims were deemed credible and a settlement with at least one of the victims was reached?
4. Why have potential victims at St. John's Prep School, University and other institutions where Br. Phillips served not been notified?
5. How did Abbot Klassen convince members of the External Review Board (including members Kate Lally, David G. Farrington, Barbara Illsley, Susan Fuchs-Hoeschen and David Baraga) to participate in the coverup of this information?
Originally Posted on July 26, 2010
(Visited 838 times, 1 visits today)