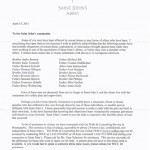 The letter that St. John's Abbey agreed to send to former St. Prep School students for whom the St. John's alumni office had current addresses (approximately 64% of graduates and 15% of non-graduates) went out this week.
However, instead of including the names of seventeen offending monks as originally announced, the list includes eighteen names.
St. John's Abbey included the name of Fr. James Kelly, a professor in the music department at St. John's University in the 1950's.
Fr. Kelly reportedly left the monastary in 1973 after allegations of misconduct surfaced. In the 37 years since he left the monastery, St. John's made no effort to make Fr. Kelly's misconduct known. James Kelly died at the age of 95. According to his obituary, Kelly "served as music director at St. John's University, then taught piano privately until 2010."
After leaving St. John's, James Kelly reportedly abused at least one of his piano students. Kelly's relationship with the abbey at the time of the abuse is unknown. In any case, St. John's Abbey made no effort to protect children and vulnerable adults from James Kelly, or even make his name public, until after his death.
Other offending monks mentioned in the abbey's letter:
Brother Andre Bennett
Brother Isaac Connolly
Rev. Richard Eckroth
Rev. Thomas Gillespie
Brother John Kelly
Rev. Brennan Maiers
Rev. Dunstan Moorse
Rev. Francisco Schulte
Rev. Bruce Wollmering
Rev. Michael Bik
Rev. Cosmas Dahlheimer
Abbot John Eidenschink
Rev. Fran Hoefgen
Brother Steve Lilly
Rev. Finian McDonald
Brother Jim Phillips
Rev. Allen Tarlton
The list of names is not comprehensive. [ View ]
(Visited 131 times, 1 visits today)