Information about the upcoming "Incarnational Prayer: Connecting to God Through Our Body" retreat has been removed from the St. John's Abbey guesthouse web site [ View ].
A screenshot of the Abbey web site's original post, however, is available (see below).
Information regarding the retreat is still available at the presenter's web site… Here.
Abbey Guesthouse Screenshot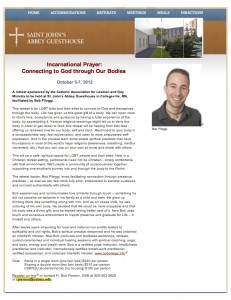 [Webmaster's Note: This is an update to our March 18, 2012 post [
View
] "Students & Monks Invited to Touch" ]
(Visited 402 times, 1 visits today)