Police Release Age-Enhanced Photo of Missing College Student Josh Guimond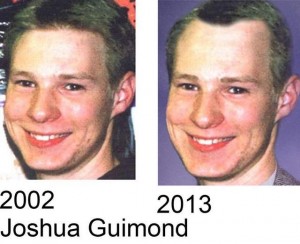 The Saint Joseph Letter    Father Jerome Tupa   Bishop & Pope's Representative Alerted
Abbey Admits: At Least 23 Monk Offenders    Coach Gagliardi Should Retire
This web site is dedicated to the more than 300 victims of sexual and other misconduct by personnel at Saint John's University, Saint John's Preparatory School, Saint John's Abbey, the Liturgical Press, Hill Museum and Manuscript Library and the School of Theology in Collegeville, Minnesota (USA).
The List   Mel Taylor Video   Fundraising Issues   Meet the Monks
Saint Cloud Times: "Abbey's Own Files Cast Doubt on its Facts"
In April of 2011, the Saint John's admitted that 18 members of its community had been credibly accused of sexual misconduct. By September of 2012, and citing "rigorous investigations," the number, according to a revamped Saint John's web site, had quietly increased to 23 members. The other five offenders?? Saint John's won't say.
Ten of those credibly accused of sexual misconduct (including sodomy of a minor) still live on campus and are able to walk freely among the students.
The number of offenders is much higher.
Father Dan Ward and Father Mel Taylor are currently under investigation for sexual misconduct. For years, Father Ward has been Saint John's chief legal strategist with regard to sexual misconduct. According to his alleged victims, Father Ward has been molesting and threatening both male and female students (along with young monks, wives and nuns) since 1974.
Many personnel on campus have looked the other way as young students — and young monks — were victimized. To this day, not a single person on campus has had the courage to say, "ENOUGH!"
Football coach John Gagliardi, by his own account, has known about misconduct on campus since the 1950′s. Despite his knowledge and understanding of the problem in the 50s, 60s and 70s, Gagliardi has yet to comment on sexual misconduct at Saint John's, despite being quite open about Joe Paterno, Jerry Sandusky and the problems at Penn State.
Abbot John Klassen and Fr. Rene McGraw have each referred to the "crimes" committed in Collegeville.  Despite their deep knowledge of those crimes, Klassen, McGraw and Father Dan Ward, along with those members of the Saint John's community who have remained silent, including Gagliardi and others, have done their best to keep the real history of abuse and misconduct out of the public eye.
In 2004,  Klassen, also the Saint John's University Chancellor, refused to release Bruce Wollmering's name to the public because of the effect that such an announcement would have on fund raising and enrollment. Klassen was also worried that Wollmering would be connected to the disappearance of Joshua Guimond, a student at Saint John's. While Klassen kept Wollmering's name from the public, he reoffended.