Misconduct, Deception and a Missing Student
Rev. Robert Koopmann's appetite for college men
John Gagliardi knew of misconduct on campus in 1950's
1980 article… The warning letter we never saw
Rev. Brennan Maiers Dies… No mention of his many victims
Choir Update: An unnamed person is no longer involved with the St. John's Boys Choirs after the organization determined allegations of sexual misconduct against minors were "more likely than not." – View
Lawsuit against Saint John's Abbey and St. Cloud Diocese
70+ other survivors could follow.
This web site is dedicated to the 260+ known victims of sexual and other misconduct by over 100 members [ View ] of Saint John's community in Collegeville, Minnesota (USA). The community includes Saint John's Abbey, Saint John's University, Saint John's Prep School, the Liturgical Press, the Hill Museum and Manuscript Library and the School of Theology.

Image from April 28, 2015 Press Conference
Nineteen Monk Offenders from Saint John's Abbey in Collegeville, Minnesota (USA)
Father Tony Oelrich (SOT '92) Arrested in Saint Cloud
View the latest documents and articles | 100+ Accused
Rev. Dan Ward Confronted After Presentation    Audio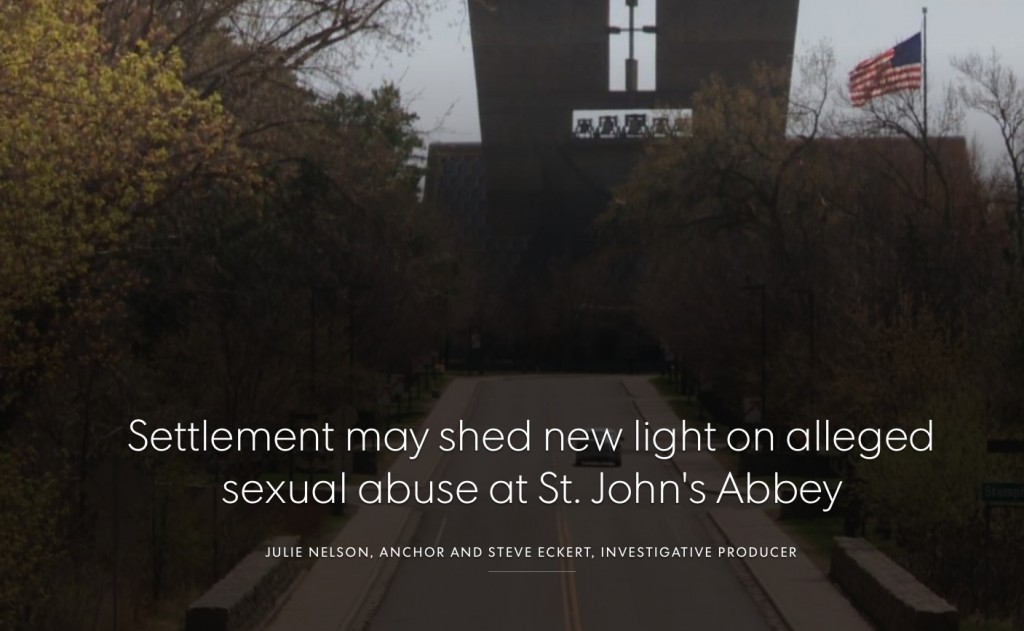 Regarding Father Allen Tarlton OSB (aka Huggy Bear)
Tracking the Public Lists  | 60+ Accused
Prep School Principal Charged  | Regarding Father Tom Andert
Regarding Timothy Backous |  Regarding Fran Hoefgen
Father Richard Eckroth: Sins of a Father: 'Sauna Kids' Abuse
At the Cabin with Father Richard
Abbot: Money, Enrollment over Transparency
Regarding Father Jonathan Licari and the Review Board
(SC Times) Values ring hollow with no details from school
Allegations Against Father Dan Ward
In April of 2011, the Saint John's admitted that 18 members of its community had been credibly accused of sexual misconduct. By September of 2012, and citing "rigorous investigations," the number, according to a revamped Saint John's web site, had quietly increased to 23 members.
The other five offenders?? Saint John's won't say. We know there have been at least 100 alleged offenders on campus.
Ten of those credibly accused of sexual misconduct (including sodomy of a minor) still live on campus and are able to walk freely among the students.
As of June of 2013, Father Dan Ward and Father Mel Taylor remain under investigation (since October of 2012) for sexual misconduct. For years, Father Ward has been Saint John's chief legal strategist with regard to sexual misconduct. According to multiple alleged victims, Father Ward has been molesting and threatening both male and female students since 1974.
Many personnel on campus have looked the other way as young students — and young monks — were victimized. To this day, not a single person on campus has had the courage to say, "ENOUGH!"
Even football coach John Gagliardi, by his own account, knew about misconduct on campus. Despite his knowledge and understanding of the problem in the 50s, 60s and 70s, Gagliardi has yet to comment on sexual misconduct at Saint John's, despite being very open about Joe Paterno, Jerry Sandusky and the problems at Penn State.
Abbot John Klassen and Fr. Rene McGraw have each referred to the "crimes" committed in Collegeville.  Despite their deep knowledge of those crimes, Klassen, McGraw and Father Dan Ward, along with those members of the Saint John's community who have remained silent, including Gagliardi and others, have done their best to keep the real history of abuse and misconduct out of the public eye.
In 2004,  for example, Abbot Klassen refused to release Father Bruce Wollmering's name to the public because of the effect that such an announcement would have on fund raising and enrollment. Klassen, who is also Saint John's University's chancellor, was also worried that Father Wollmering would be connected to the disappearance of Joshua Guimond, a student at Saint John's. While Abbot Klassen kept Father Wollmering's name from the public, Wollmering reoffended.
(Visited 154,805 times, 6 visits today)