Saint John's Abbey quietly admitted, via a revamped web site in the summer of 2012, that at least 23 members of its community had been credibly accused of sexual abuse or misconduct.
23 Members "Credibly Accused"
According to the abbey's web site (from 2012):
"rigorous investigations deemed that allegations of sexual abuse or misconduct* against 23 members of the Abbey were credible."

Here's a screen shot: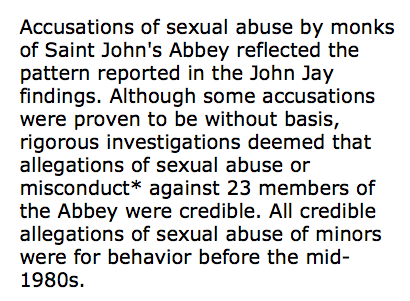 Interestingly, on the web page (formerly entitled "transparency.html" by the way) the abbey fails to provide the names of the 23 monk offenders.
The reference to "23 members" on the abbey's web site has been removed.
April, 2011 Letter
The abbey web site also no longer provides a copy of the letter that it claims was sent to all Saint John's alum in April of 2011.  As part of the April, 2011 settlement, that letter was to be posted on the abbey's web site [ View ].
The April, 2011 letter from Abbot John Klassen [ View ] provided the names of eighteen credibly accused monk offenders:
Brother Andre Bennett
Brother Isaac Connolly
Father Richard Eckroth
Father Thomas Gillespie
Brother John Kelly
Father Brennan Maiers
Father Dunstan Moorse
Father Francisco Schulte
Father Bruce Wollmering
Father Michael Bik
Father Cosmas Dahlheimer
Abbot John Eidenschink
Father Fran Hoefgen
Brother Steven Lilly
Father Finian McDonald
Brother Jim Phillips
Father Allen Tarlton
Father James Kelly
Who Else?
Which of the following credibly accused monks [ View ] make up the other five on the abbey's new list of twenty-three?
Father Tom Andert
Father Daniel Ward
Father Mel Taylor
Brother Robert Burke
Father Howard Oak Mossier
Father Agustine Cerezo Murillo
Father Peregrin Berres
Father Robert Blumeyer
Father Mathias Faue
Father Othmar Hohmann
Abbot Timothy Kelly
Brother Paschal Brisson
Father Dominic Keller
Father Timothy Backous
Father Jonathan Licari
Posted November 8, 2012
Updated November 30, 2015
(Visited 3,177 times, 1 visits today)