Despite a history of misconduct dating back to the 1970's, Father Tom Andert is currently "Prior", or second in command, at the monastery.
Below are copies of the love letters from Saint John's Abbey monk Father Tom Andert to a high school student in 1994.  Abbot Timothy Kelly and other members of the community covered up the misconduct.
Despite the abbey's knowledge of this and other inappropriate behavior by Fr. Tom Andert, he is now the prior at St. John's Abbey/Monastery. Fr. Andert also held a spot on the abbey's External Review Board, which was created as a result of a 2002 settlement with victims of abuse. The public was told that the Board was created, in part, to monitor activity of members of the St. John's community who acted inappropriately.
Tuesday, February 15, 1994 – Letter #1 from Father Tom Andert to Victim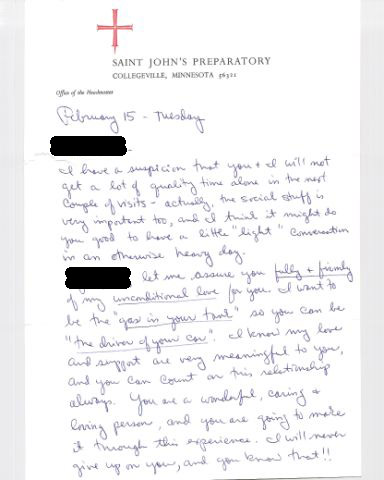 Dear [Victim's Name] – I have a suspicion that you and I will not get a lot of quality time alone in the next couple of visits – actually, the social stuff is very important too, and I think it might do you good to have a little "light" conversation in an otherwise heavy day.
Again, [Victim's Name], let me assure you fully + firmly of my unconditional love for you. I want to be the "gas in your tank" so you can be "the driver of your car". I know that my love and support are very important to you, and you can count on this relationship always. You are a wonderful, caring + loving person, and you are going to make it through this experience. I will never give up on you, and you know that!!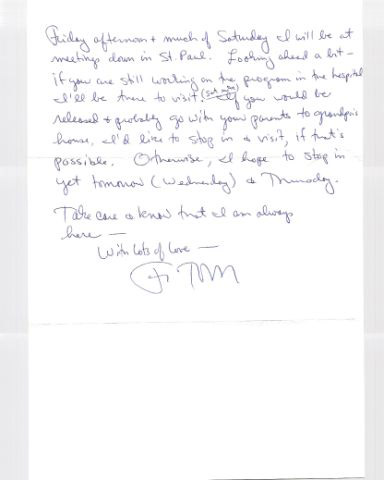 Friday afternoon + much of Saturday I will be at meetings down in St. Paul. Looking ahead a bit – if you are still working on the program in the hospital I'll be there to visit. (Sat nite) if you would be released + probably go with your parents to grandpa's house, I'd like to stop by for a visit, if that's possible. Otherwise, I hope to stop in yet tomorrow (Wednesday) + Thursday.
Take care & know that I am always here – With lots of love – Fr. Tom
Wednesday, February 16, 1994 – Letter #2 from Father Tom Andert to Victim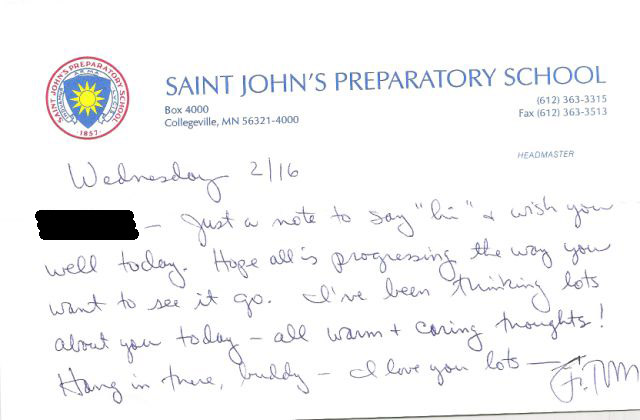 Hi [Victim's Name] – Just a note to say "hi" + wish you well today. Hope all's progressing the way you want to see it go. I've been thinking lots about you today – all warm + caring thoughts! Hang in there, buddy – I love you lots. Hang in there, buddy – I love you lots – Fr. Tom
Thursday, February 24, 1994 – Letter #3 from Father Tom Andert to Victim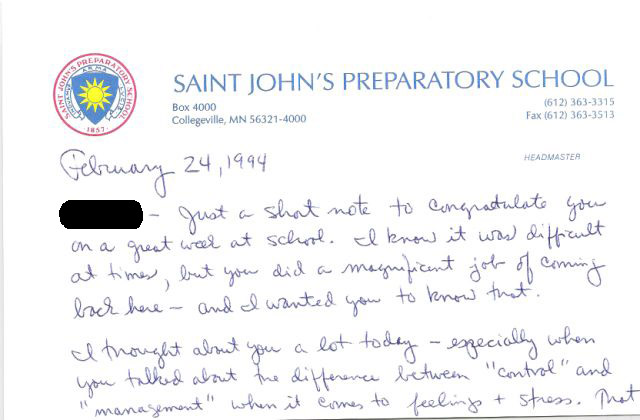 Hi [Victim's Name] – Just a short note to congratulate you on a great week at school. I know it was difficult at times, but you did a magnificent job of coming back here – and I wanted you to know that.
I thought about you a lot today – especially when you talked about the difference between "control" and "management" when it comes to feelings + stress.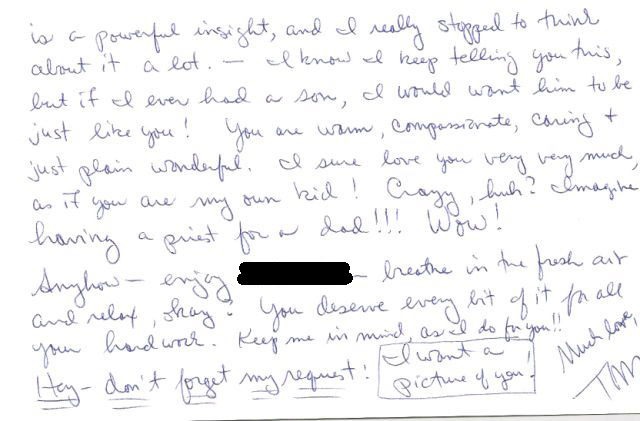 That is a powerful insight, and I really stopped to think about it a lot. – I know I keep telling you this, but if I ever had a son, I would want him to be just like you! You are a warm, compassionate, caring + just plain wonderful. I sure love you very very much, as if you are my own kid! Crazy, huh? Imagine having a priest for a dad!!! Wow!
Anyhow – enjoy [Location] – breathe in the fresh air and relax, okay? You deserve every bit of it for all your hard work. Keep me in mind as I do for you!!
Hey – don't forget my request! I want a picture of you!
Much love, Tom
February XX, 1994 – Letter #4 from Father Tom Andert to Victim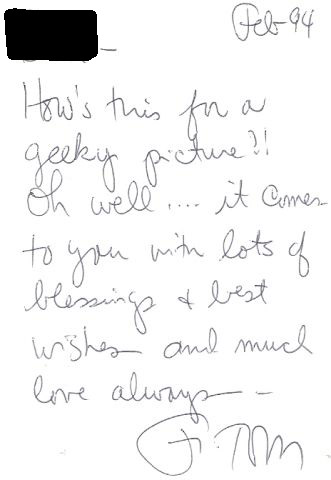 [Victim's Name] –
How's this for a geeky picture?!
Oh well…. it comes to you with lots of blessings + best wishes and much love always – Fr. Tom
Wednesday, March 17, 1994
Tom Andert has dinner with [Victim's Name] and his mother at the Pirate's Cove.

Thursday, March 18, 1994 – Letter #5 from Father Tom Andert to Victim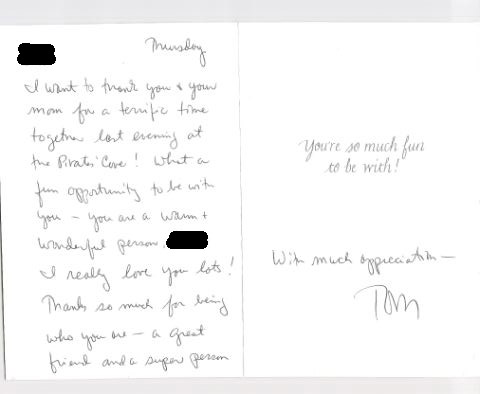 Greeting Card Phrase: "You're so much fun to be with!"
[Victim's Name] –
I want to thank you + your mom for a terrific time together at the Pirates' Cove! What a fun opportunity to be with you – you are a warm + wonderful person, [Victim's Name] – I really love you lots! Thanks so much for being who you are – a great friend and a super person
With much appreciation – Tom
Friday, March 26, 1994 – Letter #6 from Father Tom Andert to Victim
[Victim's Name],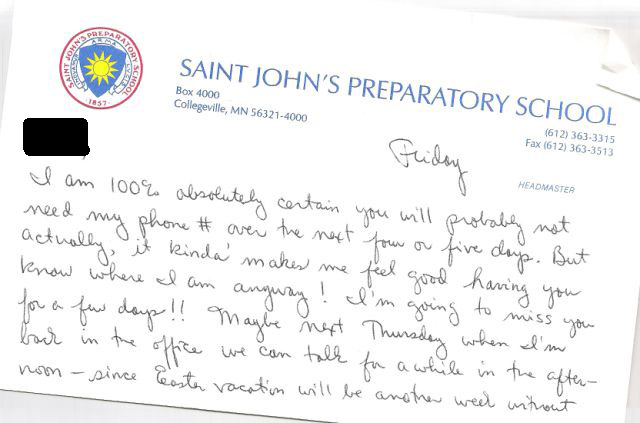 I am 100% absolutely certain you will probably not need my phone # over the next four or five days. But actually, it kinda' makes me feel good having you know where I am anyway! I'm going to miss you for a few days!! maybe next Thursday when I'm back in the office we can talk for a while in the afternoon – since Easter vacation will be another week without seeing you.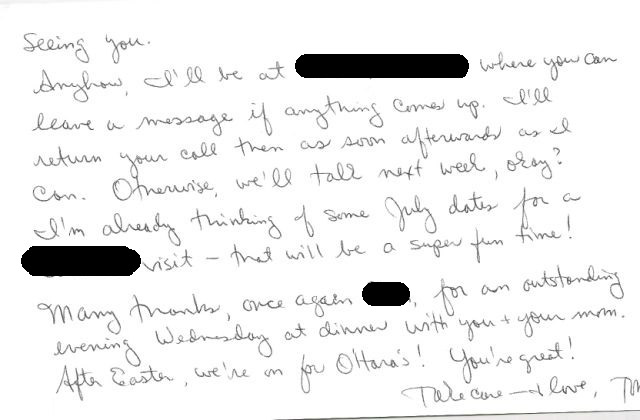 Anyhow, I'll be at XXX-XXX-6619 where you can leave a message if anything comes up. I'll return your call then as soon afterwards as I can. Otherwise, we'll talk next week, okay? I'm already thinking of some July dates for a XXXXXXX visit – that will be a super fun time!
Many thanks, once again [Victim's Name], for an outstanding evening last Wednesday at dinner with you + your mom. After Easter, we're on for O'Hara's! you're great!
Take care – + love, Tom
Originally Posted: Feb 17, 2009
Updated: July 2, 2010
(Visited 3,303 times, 1 visits today)