(WJON) It was over ten years ago that St. John's University college student Joshua Guimond was last seen leaving a party on campus to walk home to his campus apartment in Collegeville.
He hasn't been seen since.
At the request of Stearns County Sheriff's authorities,  the Minnesota Bureau of Criminal Apprehension created an age-enhanced image of what Guimond might look like today.  Police hope bringing renewed awareness to the case may help them solve it.
If you have any information on Josh Guimond, call the Stearns County Sheriff's Department at 320-251-4240 or the BCA Tip Line at 1-877-996-6222.
Source: WJON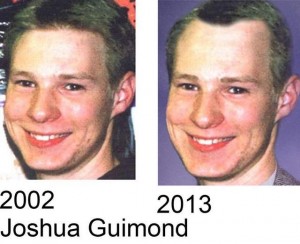 (Visited 571 times, 1 visits today)