Brother Aelred Senna, spokesperson for St. John's Abbey, confirmed the investigations into [Father Mel Taylor and Father Dan Ward]. He wrote in an e-mail to the FOX 9 Investigators, "I am able to say that Saint John's Abbey is cooperating fully with authorities in these investigations. In light of that fact, and out of respect for all concerned, it would be inappropriate for me to make any further comment. The Saint John's community continues to pray for the healing and well-being of all victims of sexual abuse and misconduct."
Allegations of sexual misconduct bring two monks under investigation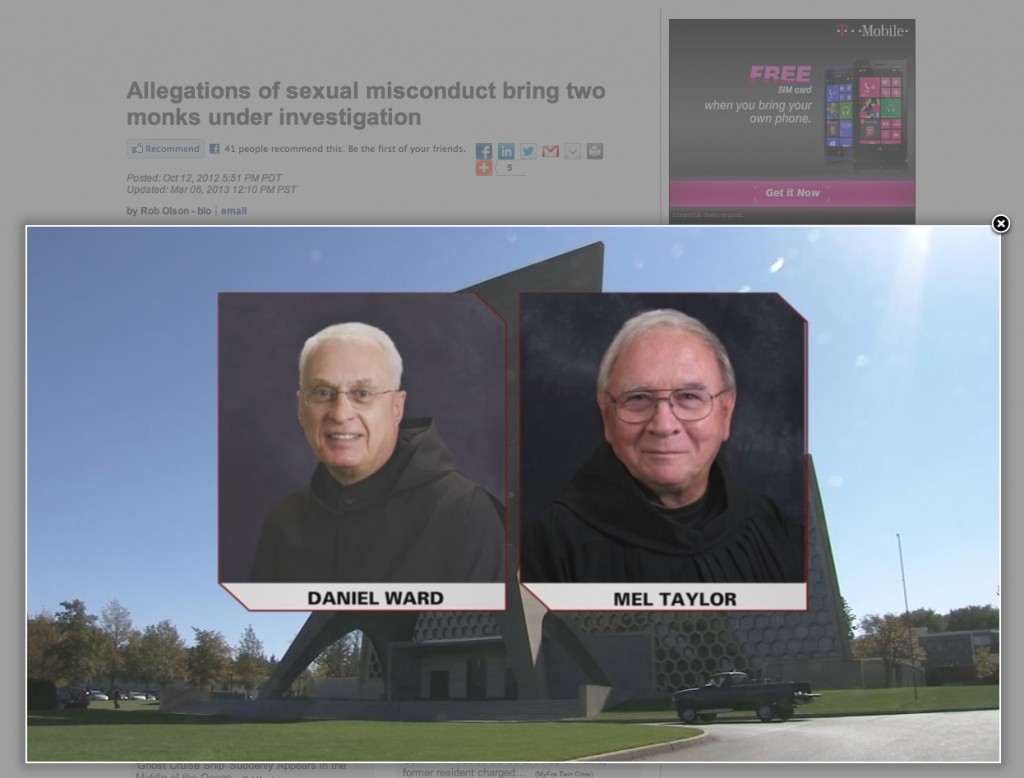 (Fox 9) COLLEGEVILLE, Minn – Two monks from St. John's Abbey in Collegeville, Minnesota are under investigation for sexual misconduct allegations that date back decades.
At this point the investigation to look into the two monks, Father Mel Taylor and Father Dan Ward, is being conducted by an attorney hired by the Abbey, not law enforcement.
The two have been with associated with the Abbey since the 1960s.
In June, the St. Cloud Diocese announced Father Taylor would return from the Bahamas, where he had spent the previous 20 years, to take over as priest of St. John the Baptist Church in Collegeville.
That is when one allegation involving a St. John's student from the early 1980s, and another from his time in the Bahamas involving another monk, surfaced.
"We became aware of them shortly after we had published the appointment of Father Mel Taylor in our diocesan paper," said St. Cloud Diocese Vicar General Father Robert Rolfus. "Within a few days after that we learned of the alleged allegations and at that point we made the decision to put the appointment on hold until the internal investigation that St. John's was going to do would be completed."
It was only days before the St. Cloud Diocese learned of the allegations that Father Taylor was confronted by the former monk who brought the accusations against him, during his last mass in the Bahamas. Father Taylor left the next day, and is believed to be in Ireland.
The allegations against Father Ward come from five men and two women, dating back to the 1970s, all occurring at St. John's, and include unwelcome advances, kissing, even threats of failing them in classes.
These allegations came to light through "Behind the Pine Curtain," a web site run by a former St. John's student, Patrick Marker, who himself brought allegations against the Abbey in 1991.
Brother Aelred Senna, spokesperson for St. John's Abbey, confirmed the investigations into both monks. He wrote in an e-mail to the FOX 9 Investigators, "I am able to say that Saint John's Abbey is cooperating fully with authorities in these investigations. In light of that fact, and out of respect for all concerned, it would be inappropriate for me to make any further comment. The Saint John's community continues to pray for the healing and well-being of all victims of sexual abuse and misconduct."
Source: http://www.myfoxtwincities.com/story/19809508/alleged-sexual
Posted: Oct 12, 2012 5:51 PM PDT
Updated: Mar 06, 2013 12:10 PM PST
(Visited 1,540 times, 1 visits today)