"Saint John's Abbey resolved and settled various sexual abuse claims against it through monetary and non-monetary agreements. The legal, media and settlement payment expense was approximately $1,000,000." – Abbey Financial Report, December 2002
Cost of a Coverup: A Million Dollars in 2002
According to an abbey financial report dated December 7, 2002:
"Saint John's Abbey resolved and settled various sexual abuse claims against it through monetary and non-monetary agreements. The legal, media and settlement payment expense was approximately $1,000,000. This expense is reflected in the alms and donations line item, and it was funded from the building and replacement reserve, and fund balance reserve. The settlement of these cases has severely reduced Saint John's Abbey financial flexibility and strength."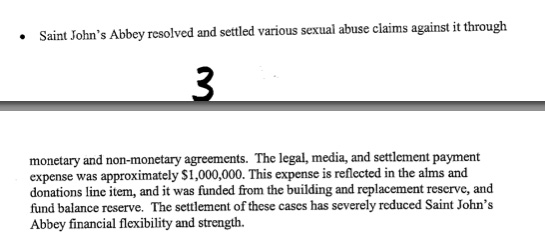 This information is not consistent with other statements [ View ] made by abbey personnel.
Thank you to the monk who made this and other documents available.
(Visited 61 times, 1 visits today)