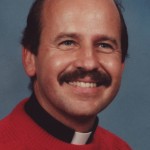 A priest accused of repeatedly raping a Hastings altar boy in the late 1980s and early '90s pleaded not guilty in a Dakota County courtroom Friday.
Francis Hoefgen, 64, who has left the priesthood and now lives in Columbia Heights, wore street clothes and appeared subdued during the court appearance. He waived his right to a speedy trial.
Dakota County District Court Judge Thomas Pugh set a trial date of May 18 and granted Hoefgen permission to take an out-of-state trip at the end of the month.
Hoefgen was charged with two counts of first-degree criminal sexual conduct. According to the criminal complaint, Hoefgen abused the 10-year-old boy repeatedly at St. Elizabeth Ann Seton parish in Hastings between 1989 and 1992.
Hoefgen, formerly a monk at St. John's Abbey, also has been sued under the 2013 Minnesota Child Victims Act, which opened a three-year window for the filing of civil lawsuits for decades-old child sex abuse claims.
Dozens of civil lawsuits against priests and the Catholic church have been filed since then, and observers have predicted more criminal cases as well.
The civil suit against Hoefgen also names the Archdiocese of St. Paul and Minneapolis, the Order of St. Benedict (also known as St. John's Abbey) and a Maryland treatment center called St. Luke Institute, where Hoefgen was sent for six months to receive psychological treatment in 1984.
According to the lawsuit filed by St. Paul attorney Jeff Anderson, Hoefgen admitted to police that he had sexually abused another minor in Stearns County in 1983.
Filings in Ramsey County
Meanwhile, hundreds of pages of church files were released Friday in connection with a high-profile clergy abuse lawsuit making its way through Ramsey District Court that claims the church created a public nuisance by transferring abusive priests.
The files document the history of the Rev. Richard Jeub, one of 34 "credibly accused" priests whose names were made public by the Archdiocese of St. Paul-Minneapolis last year.
He served in eight Twin Cities parishes from 1966 to 2002, and exemplifies how the church moved priests who got in sexual trouble, said Patrick Wall, an investigator at the Anderson law firm.
The documents show that as early as 1969, a priest found Jeub, assistant pastor at Our Lady of Grace Church in Edina, on a bed with a young woman. Jeub was transferred to St. Mark's Church in St. Paul, where documents said he had an exploitive relationship with a woman from 1972 to 1980. Jeub moved to Christ the King Church in Minneapolis in 1976, and two years later was transferred to hospital ministries. By 1981, he was pastor at St. Kevin's Church in Minneapolis.
By 1988, Jeub had admitted to being sexually involved with nearly a dozen women while a priest. He was sued for sexual misconduct with a teenage girl, and reached an out-of-court settlement.
After that he was transferred to Sacred Heart Church in Robbinsdale in 1996, to St. John the Evangelist in 1997, and St. Rose of Lima Church in Roseville in 2000. He resigned from St. Rose after a newspaper article revealed his past, but was allowed to work in a Duluth parish through 2010.
"The question remains, what has the archdiocese done, and the Diocese of Duluth done, as far [as] monitoring Richard and his dangerous proclivities?" Wall said. "Is he anywhere near kids?"
Jeub now lives in Crosby, Minn.
Read Entire Article and Comments… Here
Former priest pleads not guilty to abusing Hastings altar boy
Erin Adler and Jean Hopfensperger
Star Tribune
September 5, 2014
(Visited 316 times, 1 visits today)