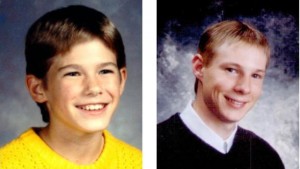 On Friday morning, Stearns County Sheriff John Sanner prepared for an afternoon meeting with Patty and Jerry Wetterling, whose son Jacob was abducted 22 years ago Saturday.
As a remembrance of the 11-year-old boy who vanished on a road near St. Joseph, people are being asked to leave their porch lights.
A few days from now, on Nov. 10, another family will gather for a vigil for another young person who vanished from Stearns County during the night.
He's Joshua Guimond, a 20-year-old student who disappeared from St. John's University in Collegeville on Nov. 9, 2002. Area lakes were searched, but no signs of Joshua were ever found.
"He just vanished," said Bob Guimond, the young man's grandfather. "Nothing ever washed up. No clothes or anything were ever found. That's why we've always believed he was kidnapped."
Jacob's abduction had always been treated as a criminal case because witnesses saw the kidnapping. Without such witnesses or physical evidence of a crime, Joshua's disappearance remains a missing-person case, the sheriff said.
"We don't know what happened," he said. "We just don't know. It's frustrating."
Two young men. One county. No answers.
Each case is still assigned to an investigator, the sheriff said. Despite the passing years, he refuses to call them "cold cases."
"Joshua's case doesn't get the media attention that Jacob's case does, but each is equally significant to law enforcement," he said. "We have families and communities that don't have answers. We remain hopeful that we will find those answers."
Last year, when his department pursued new leads on Jacob's case, five dozen media outlets from across the country called the sheriff for interviews in a matter of hours.
After all this time, the story of the young boy snatched while biking with friends remains in the national mind.
"The Wetterling case changed the way we parented," the sheriff said. "It ended an era of innocence for central Minnesota and the Upper Midwest. Before the kidnapping, it was OK to leave kids at the bus stop by themselves. After that, parents stood with their children."
Joshua's case didn't have that kind of impact, but is no less important.
"It's like we're on an island in the Pacific Ocean," Joshua's grandfather said. "No one's coming to help us. No lifeboats are out there."
No family should have to endure the ordeal of a loved one gone missing. It's a cruel torture to have a family member simply disappear from the Earth. Somebody has answers.
With Halloween approaching — a time for children and for mischief — perhaps we could leave our porch lights on for both of these anniversaries as a way to remember Jacob, Joshua and all children who've disappeared.
Susan Hogan is a Star Tribune editorial writer.
* * *
One Minnesota County, two missing young men
StarTribune
October 21, 2011
View Full Article and Comments Here
Related: Misconduct in St. Joseph, MN
(Visited 323 times, 1 visits today)