[Webmaster's Note: The following Sports Illustrated article came out in August of 1992, exactly one year after the sexual abuse scandal on campus hit the media.
View
]
The Gentlest Giants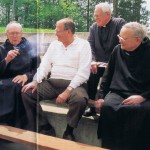 Quiet, please. The calisthenics portion of football practice at St. John's of Minnesota is about to begin.
"One jumping jack!" barks a leader, one of this season's dozen or so captains. At St. John's the seniors are allcaptains. "They're all great guys," says coach John Gagliardi. "And this way they can all put 'Captain' on their résumés."
"Ready, begin!" shouts the captain du jour. Without any semblance of synchronicity, the Johnnies execute their daily jumping jack.
"Nice Day Drill!" comes the next command. The team drops as one to the grass, rolls onto its back and stares at the Minnesota sky. "Beautiful day, isn't it?" they are required, as part of the drill, to ask one another.
Presently calisthenics continue. "Stretch out on your own," the players are told. For several minutes they do.
"You guys wanna do any more of these?" the captain asks.
"Nahh."
Calisthenics are over.
So soon? What about leg lifts, quarter eagles, neck bridges and the rest of those time-honored contortions and isometrics, which, though they may have no practical application on the football field, look smart.
Spare us, say the Johnnies, whose cals are simply a mockery of some of the things they find ridiculous about the sport. It's all very well for the Johnnies to poke fun at the hidebound aspects of football, but surely there is a price to be paid for such insouciance. Surely this squad is a patsy on the field.
Quite the opposite. Gagliardi has won three national championships. With 286 wins in 43 seasons he is college football's second-winningest active coach, behind Grambling's Eddie Robinson. Last season the Johnnies went 11-1, led Division III in passing offense and total offense, and made it to the division's Final Four before losing to Dayton. One could say that since Gagliardi arrived in Collegeville, in 1953, the Johnnies have been kicking ass and taking names.
One is advised, however, not to say it around the coach. "We don't want to kick anyone in the rear, we want to block and tackle," says Gagliardi, who objects to the violent, macho language often associated with the game. Gagliardi has compiled a list of 74 "No's," and number 32 is "No use of words like hit or kill."
Or, for that matter, Coach. Call me John, he tells his players. Imagine a player at, say, Nebraska draping his arm around Tom Osborne and saying, "Tom, do I make my cut at seven or nine yards?" Then imagine that Cornhusker plunging like an anvil to the most remote recesses of the depth chart.
Most coaches feel naked without a whistle. Gagliardi doesn't own one. He prefers to keep the trappings of his office to a minimum. He has only two assistant coaches. Seniors are expected to act as position coaches. Since the Johnnies block and tackle adequately during games, Gagliardi doesn't require them to block and tackle in the preseason or, once the season has begun, during the week. "Visualize it," he tells his players. "Fantasies don't always have to be about the opposite sex."
Nothing depresses Gagliardi more than an injury, and the Johnnies suffer very few. "You know how most coaches will make their quarterback off-limits in practice?" he says. "Well, what about the other guys? They've got mothers too."
The ultimate player's coach was a player-coach himself. In the summer of 1943, before his senior year at Trinidad (Colo.) Catholic High, Gagliardi's football coach went off to war. Father Sebastiani, the principal, decided to cancel the season. Gagliardi sought him out. "Father," he said, "a lot of guys are thinking of transferring to the public school." This news, which Gagliardi had made up on the spot, distressed the priest. "How about if we run practice ourselves," suggested Gagliardi. "Just give us a week. If it's not working, you can always call it off."
The priest agreed. Playing halfback in the Tigers' triple-threat offense and acting as coach, Gagliardi learned that many of football's hoariest traditions were superfluous—even downright stupid. The team stopped hitting five days a week. When the players got thirsty—here was a radical departure—they drank water. "Hell, we figured they let horses drink water," says Gagliardi.
The Tigers won the first league championship in school history, and Gagliardi stayed to coach them for another year before attending college. He coached at a nearby high school while at Colorado College, and after graduating he was hired to run the football, basketball and baseball programs at Carroll College in Helena, Mont. Over the next four years the Fighting Saints won three Frontier Conference championships.
In 1953 Gagliardi decided to interview for the vacant coaching position at St. John's. The school president at the time, Father Arno Gustin, had two questions: Did he need athletic scholarships to win? Could he beat Gustavus Adolphus College, the scourge of the Minnesota Intercollegiate Athletic Conference? The answer to the first question was no. The answer to the second was yes. He was hired.
Before the season began, Gagliardi asked Father Arno if he might have a television, to ease the loneliness of the prairie. The request met with disapproval. The lives of the monks at St. John's revolved around the dictum of St. Benedict: Ora et labora (Prayer and work). Nonetheless, after Gagliardi coached the squad to a 3-1 start, a TV was installed in his St. Mary Hall cubicle. He discovered that lurking within many of the Benedictines was a repressed couch potato. On Sunday nights Gagliardi would find his cell crowded with monks gathered around the set watching Jackie Gleason, filling the room with cigar smoke.
For almost four decades on home football Saturdays, the monks have congregated in a corner of St. John's Stadium, darkening the bleachers with their robes and the sky with their ever-present cigar smoke. "Check that smoke," Gagliardi tells his quarterbacks. "If it's coming out nice and smooth, you're fine. If it's coming out in angry puffs, throw the ball!"
The Benedictines began building St. John's in the 1860s, and it has become known as a liturgical center and for the overall quality of its education. Last season 66 out of 117 football players had better than a 3.0 grade point average. Little wonder Gagliardi lets his quarterbacks call their own plays. "These guys are a hell of a lot sharper than I am," he says.
Since 1957 Gagliardi and his wife of 36 years, Peggy, have lived a five-minute walk from his office, and he is home each night for dinner. Gagliardi does not spend his evenings poring over film of upcoming opponents, trying to discern tendencies.
St. John's won its first "small college" national championship in 1963, its second in '65 and the Division III title in '76. The mid-'60s squads won with defense; the '76 team relied on Gagliardi's mystifying quadruple option. It is a mystery to Gagliardi why coaches limit themselves to one system. The first and cardinal "No" on his list: "No single way to coach football." Flexibility equals survival. Gagliardi picked up that lesson from his father, Ventura, who left Calabria, in southern Italy, in 1910, mined coal for a time, then set up shop in Trinidad as a blacksmith. When the need for his blacksmithing services waned, Ventura opened an auto-body shop. Gagliardi expected to live out his days in Trinidad, banging out fenders.
That he became a coach is a decision for which his players are eternally grateful. There are no playbooks at St. John's. Says Gagliardi, "Players never read them."
Years ago Gagliardi decided that recruiting was an inefficient expenditure of his time and he would no longer leave campus to woo players; if they wanted to be wooed, they could come to him or settle for being wooed over the phone. Quarterback Pat Mayew, who graduated last spring, was recruited as a tennis player. Tennis coach Dick Schroeder asked Gagliardi to invite Mayew to try out. Last season Mayew threw 30 touchdown passes and led Division III in passing efficiency.
Of course, while he was leading the nation, he never knew it. Gagliardi doesn't post statistics in the locker room. Tackles aren't counted. Occasionally the league office phones with good news: Some Johnny has been named the conference's defensive player of the week, and for a press release they need to know how many tackles the player had. Gagliardi puts his hand over the mouthpiece and asks whoever happens to be in his office: "How many tackles is pretty good?"
Gagliardi has made some concessions to the 20th century: There is a weight room, for instance. Just don't ask Gagliardi where it is. "I've had too many great players who never touched a damn barbell," he says. "They were too busy playing three sports a year, being athletes."
The Johnnies do perform some drills. The Beautiful Day Drill has spawned the Beautiful Autumn Day Drill. In the curious Walk-away Drill, when one team member slaps another on the helmet, the slappee is required to absorb the blow and walk away. On a third-and-seven play against Wisconsin-La Crosse in the quarterfinals of the Division III tournament last season, St. John's fullback John Conzemius gained six yards on a flare pass. After going out of bounds, however, he was hit, then taunted, by an Eagle player. Conzemius turned the other cheek; the ref threw a flag on the offending Eagle, and the Johnny drive was kept alive. St. John's scored two plays later and won the game 29-10.
Another concession: film sessions. Every Monday night Gagliardi assembles the team—and interested monks—to review Saturday's game. In the old days defeats could be brutal. The monks would sit shaking their heads, puffing noiselessly, a grim, silent chorus. Usually silent, that is. Gagliardi tells the story of Brother Leo, an older monk with a snowy beard. In the '60s, when the trademark of Gagliardi's teams was stern defense, Brother Leo would pound on a desk while he watched game films and chant, "No offense!"
When Gagliardi mentioned the unwelcome catcalls to Father Arno, the priest soothed him. "Ignore Brother Leo. He is a bit senile, you know. Although I must admit that is the first intelligent thing he's said in 10 years."
After last season's 67-19 humbling of St. Olaf, Gagliardi was chided by several of the monastery's older monks. They reminded him of the Oles' 80-0 rout of the Johnnies back in 1930 and demanded to know of him, "Why didn't you run it up?"
The Benedictines think enough of Gagliardi to let him teach a class: Theory of Football. It is widely regarded as a gut. During one class last spring Gagliardi was showing tapes when onto the screen leaped Jim Lehman, who played at St. John's from 1953 to '56. In the clip Lehman swung out of the backfield, latched onto a screen pass and turned up-field. Four opponents fell to downfield blocks. Three more opponents converged on Lehman; they had him boxed in. Gagliardi froze the video.
"How can any mere mortal escape this predicament? He's trapped, right?" The class knew better than to bite. Gagliardi rolled the tape. Lehman stopped, sidestepped his pursuers—who collided with one another—and ran for six.
Gagliardi challenged the class: "You know what enabled him to get away, don't you?" Dramatic pause. "Great coaching! I'm the one who said, 'This guy is a hell of an athlete—let's give him the ball!' " The class cracked up. "That's right," Gagliardi repeated. "Great coaching."
No one disagreed.
The Gentlest Giants
Austin Murphy
Sports Illustrated
August 31, 1992
View: http://sportsillustrated.cnn.com/vault/article/magazine/MAG1004160/1/index.htm
(Visited 275 times, 1 visits today)