In late December of 2011, [Victim] met with Archbishop Patrick Pinder in the conference room in the chancery at St. Francis Cathedral in Nassau, Bahamas. The meeting was close to an hour in length. [Victim] asked that Pinder bring Father Mel Taylor in for a meeting so that [Victim] could confront Taylor regarding sexual advances, exposures and other inappropriateness perpetrated by Taylor when [Victim] was a novice monk in the early 1990s. [Victim] simply wanted to put the issue to rest.
Pinder refused to set up that meeting. According to [Victim], Pinder told [Victim] that he would have to deal with the issue.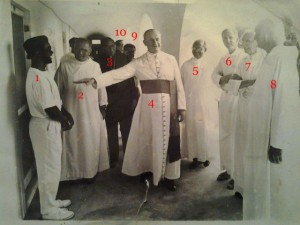 This 1992 photo shows [Victim] (left) and Mel Taylor (second from left) in the Bahamas.
1. Novice [Victim] 2. Father Mel Taylor, OSB
3. Bishop Lawrence Burke S.J.
4. Cardinal Jozef Tomko, Prefect of the Congregation for the Evangelization of Peoples
5. Father Theophile Brown OSB
6. Brother Barry Gearman OSB
7. Father George Wolf OSB
8. Father Fintan Bromenschenkel OSB
When [Victim] found out that Taylor would be celebrating his final mass on June 3rd, he decided to deal with the issue.
(Visited 1,127 times, 1 visits today)