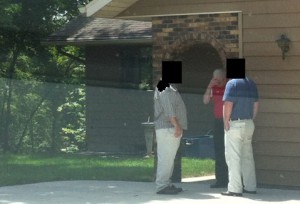 During a two-and-a-half hour visit with two former Johnnie football players on July 23, 2012, Saint John's University football coach John Gagliardi reportedly admitted that he first became aware of misconduct at Saint John's in the 1950's.
In fact, Gagliardi's report to Father Dunstan Tucker which led to a perpetrating faculty member's swift exit from Saint John's after a high school recruit from Florida (and likely a minor) confided in Gagliardi that the faculty member tried to get in bed with the recruit, following a tour of the campus.
On July 23, 2012 — the day the NCAA announced sanctions against Penn State University — the two former players met with Gagliardi at his home.
Gagliardi, with wife Peggy present, reportedly told the former players that he began a tour of the campus with the Florida recruit, but allowed the faculty member to finish the tour.
Gagliardi reportedly found the recruit sleeping on the floor of his garage the next day.
While Gagliardi reportedly didn't provide a name of the faculty member, the recruit was likely targeted by Roger Julkowski since, among the details reportedly provided by Gagliardi, the perpetrating faculty member taught English at SJU, and later took a job at high school in St. Paul, Minnesota. More about Roger Julkowski Here and Here.
It is unclear what steps, if any, Gagliardi took to protect the students at the high schooling St. Paul.
Compare this revelation with statements Gagliardi made during an interview regarding the sexual abuse scandal at Penn State that was published on November 9, 2011:
"You don't want to believe it could happen. Thank God, I've never run into that situation. There are some horrible people out there." [ View ]
By his own admission, Gagliardi HAS run into "that situation" before and yet he remains silent, despite his knowledge that at least one of his star football players was a victim of sexual misconduct by a priest at Saint John's Abbey in the 1980's.
That perpetrating priest, Father Francisco Schulte [ View ], remains on campus today and according to the abbey's web site, is "free to move about campus with some exceptions … free to use the library, the bookstore and to walk the roads and byways on the campus." [ View ]
Another of Gagliardi's players was sexually abused in the 1970s by Brother Robert Burke.
Saint John's Abbey settled complaints in both the Schulte and Burke matters.
As this site's webmaster wrote in January of 2012 [ View ], Gagliardi's silence regarding misconduct at Saint John's is a problem — and his comments regarding Penn State scandal, [ View ] Joe Paterno and Jerry Sandusky appear to be even more hypocritical.
Updated May 19, 2014
Originally posted on September 26, 2012
(Visited 2,962 times, 1 visits today)